GSE Mission Statement
[To always keep the Main thing the Main thing]
The MAIN THING is to build Gifted Souls Ent. in such a way that it may be a healing source to the world through her music!
Hello: Ernest Harris, Jr. CEO of Gifted Souls Entertainment (GSE) was born 12 April 1972 in Gainesville Florida. Since the age of 16 he's written over 600 songs, which includes songs recorded by Paramount Records. He is the proud son and 3rd child of E.J Harris, Sr. and Geraldine Johnson. He grew up in Florida cities such as Macclenny and graduated from high school in Live Oak. He served 8 years 10 months in the United States Army.
In 2008, Mr. Harris founded Gifted Souls Entertainment (GSE). GSE is a entertainment company that places no limits on itself nor its artist. Everyone has a soul and, Mr. Harris believes everyone has a gift, given by the Creator. GSE is all about the people that are using these such gifts.
When Mr. Harris first founded GSE he would find less fortunate but gifted artist and groom them. Mr. Harris would 100% finance from his own pocket from start to finish of the complete project or cd for those said gifted artists. Mr. Harris from start to finished finance the entire projects/cd's of all 3 artists located in the Artists area. After investing over $10,000.00 into those 3 artists, Mr. Harris realized that this method of giving back was just too costly and put up a donation button to help continue the mission, any amount is appreciated and will be used towards changing a less fortunate but gifted artist life.
GSE has worked with artist such as Dee Rockid, James Philpot aka Iron Samurai, Bertram Fuller, Talley Crews, Jodell Murray, P.K. Green, Rodney Barber ,Thomas Richardson and many more. Mr. Harris GSE also worked with Producer Terrance Lewis of Urban Multitracks, movie star Mr. Curtis Snow and 2 grammy award winners Mrs Le'Andria Johnson and Mr Darius Paulk and the engineer Mr Ronald Gore
Ernest is a songwriter first and a lover of music. He states "He didn't find music, music found him and the very moment she did sparks flew".
If you like our music, please consider donating. The GSE project mission is helping gifted and less fortunate artists. Your contribution enables us to do our work and continue with our music creation…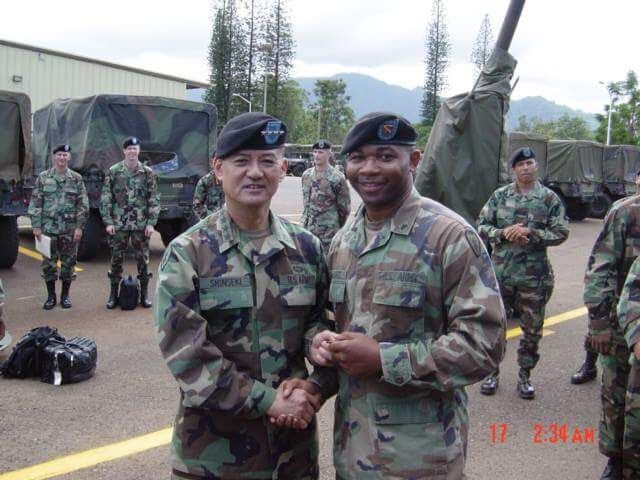 4 Star General Shinseki with Sgt EH 2002